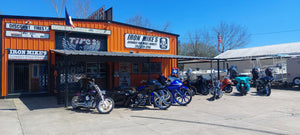 ABOUT IRON MIKE'S
Here at Iron Mike's Motorcycle Shop, we care about one thing...your motorcycle's optimal performance. We are premiere mechanics with a passion for motorcycles.
We are THE top notch repair services provider in the entire Gulf Coast region. If it's repair, we're there - serving all of Houston and Galveston. Bring your motorcycle to Iron Mike's for supreme care.
We are one of the most trusted shops in the region, and still receive customer's bikes from out of state.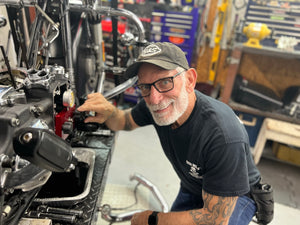 Mike "IRON MIKE" Peterson
A mechanic to his core, Mike has been wrenching on his own bikes since he was 22 years old. Faith in his ability and his long-time dream, Mike started working on bikes out of his garage in 1994. In 2006, as his customer base grew, he decided to make motorcycles his sole occupation, and opened a small service and repair shop. He drew customers from all over Texas and even out of state.
He was forced to expand his business in 2010, and moved his shop to its present location in Bacliff, Texas. With a crew that is "family" to Mike, Iron Mike's Motorcycle Shop can now offer parts, tires, complete service and inspections, builds and custom rebuilds, all with the knowledge that each customer is getting the best care and service. Mike's reputation precedes him, and he is known for providing excellent service, spot-on repairs, and incredible custom builds to customers near and far.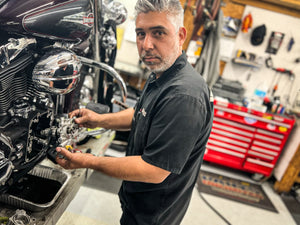 Marcos Sandoval
In 1997, Marcos graduated from UTI and was Dynojet Certified. Two years later, he was also certified as a Machinist at Mech Tech College. While attending school, Marcos worked at a speed shop, fabricating parts for drag cars and formula cars. Shortly after graduation, Marcos started working on motorcycles. He worked on sports bikes and built custom Harley-Davidsons.
In 2004, Marcos established his own shop "MAS Custom Creations",in San Juan, Puerto Rico. Marcos worked building ground-up custom bikes (choppers) for various customers. He also built drag bikes and did dyno-tuning. Marcos has won many custom bike shows and his creations have been featured on television and in magazines.
Marcos is also a Harley Drag Racer, winning numerous events. In 2015, Marcos moved to Bacliff, Texas, and in pursuing his love for motorcycles, he started working with Mike at "Iron Mike's Motorcycle Shop", where he continues delivering great customer service, backed up by performance and satisfaction.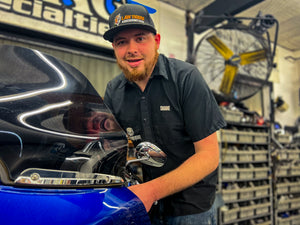 Shane Williams
Shane was born and raised in New Paltz, NY, on a farm, riding 4-wheelers, snowmobiles and dirt bikes. Anything with 2 wheels has always been Shane's passion. Shane is an MMI Graduate, and certified in both Harley Davidson and Honda motorcycles. Shane has always had a dream of working in a Harley Davidson Dealership, and that dream came true when he moved to Houston, Texas.
After working in 2 Harley Dealerships, he then went into the after-market business where custom bikes and fabrication became his new hobby. Shane is now a proud member of Iron Mike's Motorcycle Shop, enjoying the fast-paced work of getting bikes in and out in record time, while doing work of the highest quality.